Today it was just me and Natalie editing. After I finished tutorial at around 1.55 I headed straight to the editing suite and Natalie joined me about twenty minutes later. My main goal for today was to get all the clips needed onto the timeline and to make a start on the sounds needed. Although me and Natalie spent about half an hour trying to make the sequence fit together perfectly, we ended up dividing the roles between us. Natalie focused on finding some sounds to fit the sequence so far, and I focused on finishing the cli. Natalie did an AMAZING job, I really loved the sounds she had found, it was almost as if she had constructed the sound for most of the opening. I fell in love with it straight away, it just needs to be shown to Vanessa and Jazzine before making a final decision. I also completed the sequence and was happy with what I had constructed - there's always room for improvement though. The clip altogether has come up to about 1minute and 45 seconds. We have a 3 hour lesson tomorrow and because the whole group will be there I'm hoping to add the text(s) onto the clip and have our rough cut edit done by the end of lunchtime. If at least we can get most of it done, I wouldn't mind doing some last minute changes on Friday before we hand it in, but I think we should be done by tomorrow. I also made a start on adding some transitions between clips such as 'cross-fade' and 'dip to colour'. All in all, the film's looking really good, much better than I expected. Hopefully with the feedback from the rough cut edit, the FINAL one will be even better. Below are a few pictures I took of me and Natalie editing.
The right screen is Natalie working on sound, and the left screen is me working on the editing
Constructing the sequence...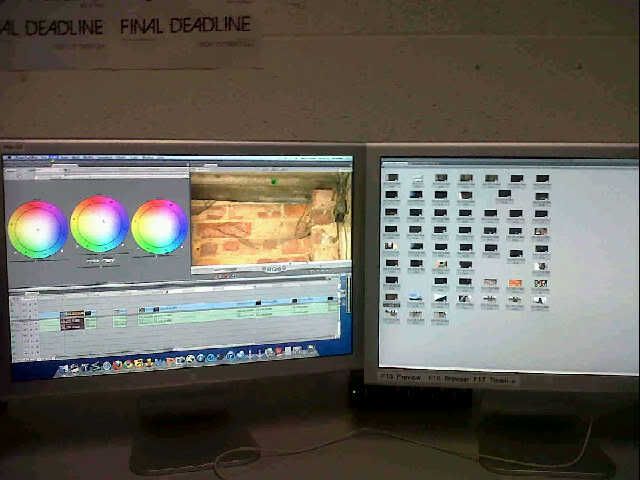 We found a clip was too bright so we were using color corrector to try and adjust the colour